"LOOK NO FURTHER. YOU'VE FOUND THE FUTURE OF MARKETING."
– Mark Schaefer, author of "Marketing Rebellion"
The Savannah Bananas should not exist.
You can't name any of their players. They play in a 1920s-era ballpark with no ads or billboards. They play in kilts, stilts, and stilettos. They even have an all-grandma dance team: the Banana Nanas.
Everything the Bananas do is unconventional. It shouldn't work.
And yet they sell out every game, have a waitlist in the thousands, ship
merchandise around the globe, and entertain millions of followers on
social media.
ESPN calls the Bananas "The Greatest Show in Baseball."
How is this even possible?
Two words: Fans First.
Packed with behind-the-peel stories, hard-earned lessons, and a few other surprises, Fans First teaches you how to stand out in your marketplace, drive explosive growth, and inspire fanatical loyalty. If this all sounds bananas, that's the point. Normal leaders read normal books and get normal results. But if you're ready to change the game, break the rules, and create your own unforgettable team, then it's time to go Fans First.
"Few books transform lives. This book is an exception. Fans First tells a truly remarkable story. But more importantly, it gives YOU a blueprint for long-term business success. Create raving fans. Think (way) outside the box. Transform your business and life. READ THIS BOOK."
– Dave Kerpen, serial entrepreneur and New York Times bestselling author, The Art of People
STOP STANDING STILL. START STANDING OUT.
Whether in schools, factories, or corporate offices, people are in a mad rush to the middle, going about their business and fitting in. The problem
is, while you may feel as if you're doing your own thing, you're not—you're doing what's expected of you. To stand out, take whatever you think is
normal, and do the exact opposite.
In Find Your Yellow Tux, Jesse Cole, in-demand speaker and baseball ringleader, shares how you can achieve amazing things by doing
the unexpected. Using examples from his life and the lives of his heroes—P. T. Barnum, Walt Disney, and MLB promoter Bill Veeck— Cole shows how to reinvigorate your goals, reignite your passions, and excel in business and beyond.
The time to break the mold is now—with Find Your Yellow Tux, you'll discover how to find joy and success in everything you do.
"Jesse Cole combines the panache of P.T. Barnum with the wisdom of Warren Buffett. Fans First is the ultimate workbook for growing the passion of your customers."
– Jay Baer, coauthor of Talk Triggers: The Complete Guide to Creating Customers with Word of Mouth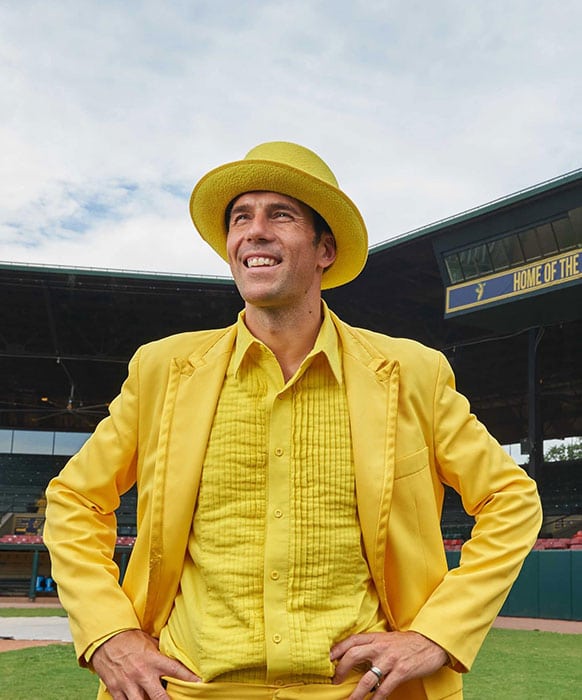 Jesse Cole is a fanatic about fandom. In 2016, he founded Fans First Entertainment and launched the Savannah Bananas with one mission: to spark a fan-focused movement. Whether at the ballpark, on social media, onstage delivering keynotes, in features for ESPN and Entrepreneur, or in his first book, Find Your Yellow Tux, Jesse continues to create fans all over the world.
Jesse is the proud inventor of Banana Ball and Dolce & Banana underwear and not-so-proud promoter of the Human Horse Race and Flatulence Fun Night. He's a raving fan of his wife, Emily, his kids, and peerless promoters like Walt Disney, PT Barnum, and Bill Veeck. Jesse owns seven yellow tuxedos.
"If you want to dominate your industry, Fans First teaches you how to ignore what everyone else is doing and embark on a path that will build fanatic fans of what you do."
– David Meerman Scott, author of twelve books,
including Fanocracy, a Wall Street Journal bestseller